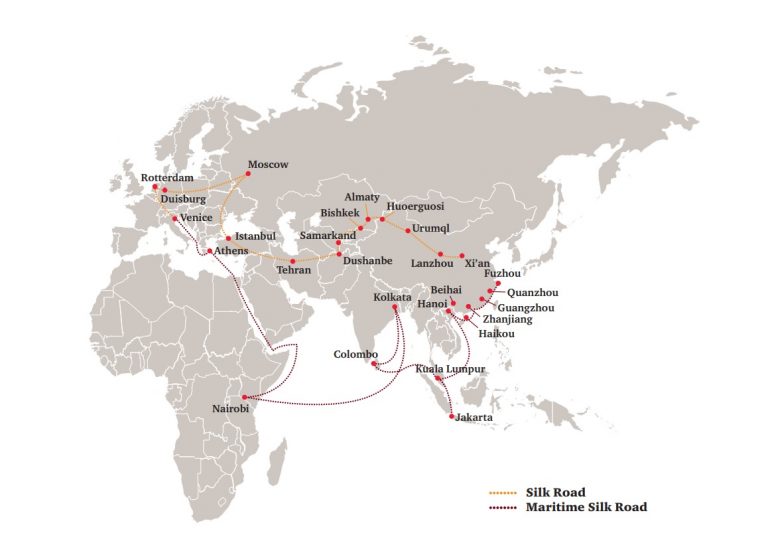 Whether you see China's One Belt, One Road (OBOR) initiative as an economic boost for the 65 nations along the routes, a way for China to export its industrial overcapacity, or regional hegemony, it comes with both opportunities and risks. Is Hong Kong the ideal place to arrange the finance for the opportunities and a centre for arbitration when disputes arise?
OBOR kicked off with a record investment into its all-weather friend Pakistan to build the China-Pakistan Economic Corridor (CPEC), a collection of projects including a vast network of railways linking Southern Xinjiang, China to Gwardar, Pakistan and further across the country. Project costs have ballooned from the initial USD 46 billion, which is more than the cumulative foreign investment Pakistan has received since 1970 to over USD $60 billion.
Other mega-projects include a railway system from Zhejiang to Tehran that is already operational and it cuts transportation times from 45 days by sea to just 14 days by rail. It is now also possible to transport goods from Yiwu, in eastern China all the way to Barking in London in 17 days instead of the 45 days by sea. A host of projects are starting up Nigeria, Russia, Thailand, Sri Lanka and numerous other countries.
Although economic growth and prosperity can follow, displacements of the local population and disputes are already emerging. Before a single brick was laid, India voiced its concern as the CPEC runs through Pakistan controlled Kashmir, a disputed area between Pakistan and India.
The CPEC project will bring roads, powerplants, schools, hospitals and create millions of jobs, but the local fishermen are being displaced to make room for the new developments and this story of displacement will be repeated from Xinjiang all the way to Europe.
Doing business along the Silk Road will be no easy feat, averaging out the scores of the 65 nations on the corruption perception index gives a score of 40, compared the much more transparent Europe with 66 points. The ease of doing business according to the World Bank also share a similar sentiment, with Pakistan ranked at 148, Nigeria at 145, Iran at 124 compared with the most of Europe in the top 50.
Risk is plentiful, which is why Hong Kong (HK) is aggressively marketing itself as the centre for arbitration for disputes arising out of these OBOR projects. Lawyers in HK point out, the city has an independent legal and judiciary system printed in both English and Chinese, bilingualism, close proximity to China and is home to more than 1,000 barristers and almost 7,000 practicing lawyers.
Should a dispute arise, lawyers say HK is the idea place for arbitration since it is able to enforce awards against mainland China, against Chinese assets. Mainland China is signatory to the New York Convention and awards made in HK can be enforced in more than 150 nations.
Despite all its practicalities, it is perhaps best to ensure you do your Due Diligence before forming any partnership to minimize hiring one of Hong Kong's famously expensive legal representatives.